SCRHA Education Scholarships
For Rental Housing Professionals

The Rental Housing Scholarship program administered by the Southern California Rental Housing Association is for individuals pursuing a career in property management. Whether you are new to a career in the rental housing industry or are seeking continuing education credits to further your professional development, the Rental Housing Education Scholarship can help you achieve your goals.
Rental Housing Scholarship Requirements*
The Education Committee awards the Rental Housing Education Scholarship to individuals whose company will not reimburse or pay for employees to participate in education programs.
Recipients must fulfill volunteer requirements (one hour for every $100 awarded) and be willing to share how the scholarship allowed them to further their careers.
The recipient must attend all courses in the program, be on time for class, and complete the course in a specified time frame.
If unable to complete the course, the recipient will reimburse the scholarship fund for the awarded amount.
Please note that the full requirements are outlined in the Rental Housing Education Scholarship Criteria & Requirements.
---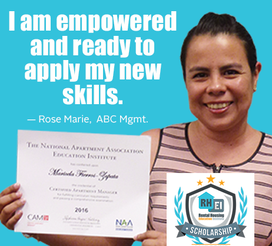 DOWNLOAD THE APPLICATION FORM FOR THE COMPLETE REQUIREMENTS AND APPLICATION FORM.
Support The Scholarship Fund!
Please email education@socalrha.org or call 858.278.8070 with questions.