Back to Events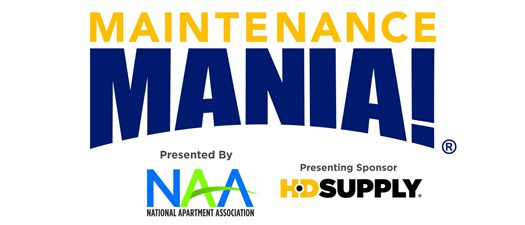 Maintenance Mania 2022
Tuesday, April 12, 2022
* Registration open until 4/11/22 at 11:59 PM (PDT)
Event Details
Congratulations to the competitors at the 2022 Maintenance Mania! The official results are in...and we're excited to announce that Joel Martinez, Liberty Military Housing, came in first place overall and Taluale Fala, The Michaels Organization, earned second place overall! Check back soon for event photos!
Maintenance Mania® is a national competition where maintenance technicians compete against each other in skill-based games built around common maintenance activities. The competition includes a pinewood derby style car race where the cars are made out of maintenance supplies.
NAA affiliates host Maintenance Mania® events across the country to recognize maintenance technicians with awards, prizes and bragging rights. Winners from each local event get a chance to qualify for a spot at the National Championship held at Apartmentalize. 
This year we're encouraging companies to create teams, choose a captain, and submit their best salsa for our new Salsa Challenge. Wear your team colors to the event to cheer on your teammates and your salsa. 
Bring your homemade salsa for a chance to win the Great Maintenance Mania Salsa Challenge and be featured in the Rental Advisor Magazine. This is the perfect opportunity to team up with your fellow maintenance colleagues at your property or company!  We hope you will take on this fun and exciting salsa challenge.
Maintenance Mania® Games
There are seven events that are standard for all Maintenance Mania® programs. Each race is open to every Maintenance Mania® participant. To view the competitor training videos click on the link for each game below. 
Each Competitor will receive wheels after registering for the event.
National Championship
The Maintenance Mania® National Championship decides who will be the Fastest Maintenance Technician in the Country. Over 700 spectators crowded the arena on the floor of the NAA Apartmentalize Conference to watch the best technicians compete for the Championship Cup, a Certificate for Apartment Maintenance Technicians (CAMT) scholarship*, and a pot of more than $20,000 in cash and prizes.
Each year, 20 finalists are selected to receive free airfare, hotel accommodations, and registration to the Apartmentalize. The participant with the fastest combined time in each of the 10 NAA regions qualifies as a Regional Finalist. The rookies with the 10 fastest times will earn the remaining 10 spots in the National Championship, regardless of region. 
Note: you must be a member in good standing with an affiliated association or a direct member of NAA and be employed full-time as a maintenance technician at a member community to be eligible to compete at the Maintenance Mania National Championship.
For More Information:

5675 Ruffin Road Suite 310
San Diego, CA 92123
858.278.8070
Registration is a two-step process. You must complete the link included in your confirmation email to be fully registered.
Registration is limited to 15 individuals per company until Monday, February 28, 2022.
No limitations per company AFTER February 28, 2022. Entrants will be registered on a first-come, first-served basis. All entrants will receive a detailed packet for completion and submission upon completing initial registration.
Registration closes March 29, 2022.
Parking $5 with validation.
Become A Sponsor
Your sponsorship of Maintenance Mania and Salsa competition lets you meet with maintenance techs, property management teams, and independent owners as they compete and cheer on their teams. Register now to become an event sponsor!
Photo Release:
Southern California Rental Housing Association (SCRHA) events may be photographed or video recorded. By participating in this event, you consent to your photograph/video recording being used for promotional purposes including but not limited to SCRHA promotional material, website and social media.